Headquarters
Mississauga, Ontario, Canada

NAATBatt Member Presentation
2019 Conference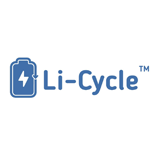 Company Synopsis
Li-Cycle™ is a clean technology company founded in 2016 that is striving to solve the global Li-ion battery end-of-life challenge and to meet the rapidly growing demand for critical battery materials. Being one of few companies focused on recycling Li-ion batteries, Li-Cycle™ has a unique insight to the challenges and opportunities of the industry, as well as the necessity for proper end-of-life logistics management.
Li-Cycle Technology™ is a closed loop, economically viable, safe, sustainable and scalable processing technology that recovers >80-100% of all materials found in lithium-ion batteries while simultaneously producing zero landfilled waste and zero water discharge.
Li-Cycle Technology™ advanced resource recovery process includes mechanical safe size reduction technology and hydrometallurgical technology, which are two patent-pending, industry leading technological processes that have been developed and refined by Li-Cycle that allow for the sustainable, economically viable recycling of lithium-ion batteries.
Featured Products
Logistic Management
Closed Loop Lithium-ion Battery Resource Recovery
Recycling
Contact Eclipse Li-Cycle
NAATBatt Membership
Join Over 100 Member Companies From Around The Globe
NAATBatt International ("NAATBatt") is a not-for-profit trade association of companies, associations and research institutions commercializing advanced electrochemical energy storage technology for emerging, high tech applications.